God chooses His man
I Samuel 16:13 Then Samuel took the horn of oil, and anointed him in the midst of his brethren: and the Spirit of the LORD came upon David from that day forward. So Samuel rose up, and went to Ramah.
God chooses to use David as the next king over Israel.
 
David is the son of Jesse the Bethlehemite 1 Samuel 16:1
Samuel arrives at Jesse's house preparing to anoint the next king of Israel. Samuel prepares to sanctify Jesse and his sons and offer a sacrifice but David is not even invited to the meeting. 1 Samuel 16:5
In 1 Samuel 16:6 Samuel sees Eliab and by all outward appearance he will surely be the Lord's anointed but God rejects him as well as all the other brothers because God does not look on the outward appearance 1 Samuel 16:7 but on the heart.
All seven of David's older brothers pass before Samuel and each is rejected. Amazingly no one has thought to invite David in from the sheep — no one thought that David apparently should even be considered. 1 Samuel 16:11
This could possibly cause a person to wonder if anyone wanted him for the ministry God had for him. However the key question is Does God want you for that ministry? If God wants you for that ministry then that is all that matters. He can and will prepare the hearts for you. He can and will open the right doors for you.
The biggest question we all need to ask is whether God wants us in the ministry or not! If He does then let's go forth knowing that He chose us, He sent us, and He will work through and in us!
Encouraging young leaders
1 Samuel 17:33 And Saul said to David, Thou art not able to go against this Philistine to fight with him: for thou art but a youth, and he a man of war from his youth.
David is again being judged on outward appearances. It is not the size of the man in fight but the size of the fight in the man. What Saul doesn't know is that David has learned to trust God. David knows that God has used him in the past and will use him again. Saul sees youth but David sees God using him even though he is but a youth. Would to God that we would begin to look on the character, desire, and heart of a man to know how God will use him.
David may have been young but God had been preparing him for a long time. He may be but a youth but God has been preparing him for just such a time as this.
Notice also that Saul believes that he can't be used because he is a youth but Goliath had also been a man of war since his youth. Could it be that we spread doubt and fear instead of faith and power? Are we guilty of scaring the youth instead of motivating them? Do you shrink people or stretch them? I would have no desire to cause fear when God could use me to encourage.
Preparing for the ministry
1 Samuel 17:37 David said moreover, The LORD that delivered me out of the paw of the lion, and out of the paw of the bear, he will deliver me out of the hand of this Philistine. And Saul said unto David, Go, and the LORD be with thee.
David is prepared to fight the giant because God has prepared him by giving him experience in battle. The other battles were minor compared to this one. He had killed the lion and bear in hand to hand combat. He had used the simple elements that his father and profession had placed in his hands. He grabbed him by his beard and struck him maybe with his rod or even his bare hand.
But the most important thing is that he knows full well that it wasn't his power but the power of God that wrought the victory. It was the Lord that delivered him. It was the Lord that gave him the victory. With his pastoral position had come the responsibility of protecting his sheep. He had done so risking his very life. He knew that all responsibility brings great risk. Now he hears a giant cursing his God. He is responsible before God to defend His name. He knows that God is seeking someone who will stand for Him, David knows that if he will but be used God will in great power deliver him.
Now as a missionary or one preparing for missionary service you need to remember that you will have to fight the small battles before you can be used to topple the giant. In your local church begin to kill the lions and bears now. Can you defeat your own laziness and lack of discipline? Can you stand for God and His man when others doubt, criticize and do not do their responsibility? You need not consider going over seas to win souls and disciple believers until you are successfully doing so where you are. If you can not manage the money that you now have for His honor and glory do not expect Him to give you more. Do you pay your bills on time? Are you are man of your word. 

Be faithful in the little things before you expect God to trust you will the big things, Luke 16:10-12
Get some experience
I Samuel 17:39 And David girded his sword upon his armour, and he assayed to go; for he had not proved it. And David said unto Saul, I cannot go with these; for I have not proved them. And David put them off him.
Prove your talents. Don't make the mistake of trying to do something just because that is how others do it. Prove your own talents. Test your calling and your weapons. Have a fervor for God but do not try to avoid getting all the necessary training to do what God has called you to do.
Be an encourager
I Samuel 17:42 And when the Philistine looked about, and saw David, he disdained him: for he was but a youth, and ruddy, and of a fair countenance.
Think of it. David has now been disdained by his dad and family, by Samuel the prophet, by Saul the king and now by Goliath his enemy. Each have seen only what the human eye can see. God is seeing a very different story. They see a red headed or red faced, good looking boy. (The word ruddy indicates the color red. Some think that it was talking about his skin color and other his hair color) God saw a warrior and a future king.
If you will disciple men you must see beyond the outward and to the man or woman that will be after God does a miracle work in their lives. 

If you are the youth that is reading this note then hang on to what God is doing in your life. Do not be discouraged by the opinions of family, friends, leaders, and even spiritual leaders. God is the one that will do the work.
Do not be cocky but be certain that God has called you and that God will use you if you will but obey Him and honor His word. 

If you are the discipler or leader trainer then get involved in building confidence in your disciple. Help him to prove his weapons by much practice. Help him to kill the lions and the bears so that he will be able to stand against the onslaught of doubt and fear that will be hurled at him.
Pastor be an encourager and not a discourager.
Walking with the "Great I AM"
I Samuel 17:47 And all this assembly shall know that the LORD saveth not with sword and spear: for the battle is the LORD's, and he will give you into our hands.
David has learned a truth that all of us must learn if we desire to be used of God. The Lord does not save with the sword and spear. That is a blessing because the nation of Israel is standing there before the Philistines with very few swords and spears. Almost certainly the Philistines were mocking them. They had a giant. They had weapons.
The Israelites are standing their side of the valley with slings, sticks, and rocks plus no hero to fight for them, Possibly others saw what was lacking but David saw not the lack but the strength that he had that no Philistine had. He had the power of God. He knew that God could and would win the battle without earthly weapons or wisdom.
God doesn't call many mighty, wise, or noble but He does give those that He calls power to do His work plus the Living Word that works effectually in the lives of men and women. 

If God calls you to do battle for Him or if you will simply say "Here am I send me" you may go forth with faith and confidence. The enemy may have more of some things than you do but the enemy lacks the one great ingredient to success.
He has no personal intimate walk with the "Great I AM."
Run towards the enemy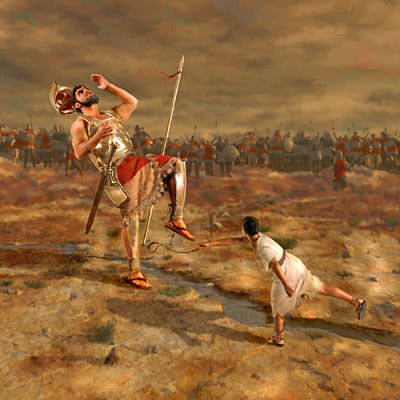 I Samuel 17:48 And it came to pass, when the Philistine arose, and came and drew nigh to meet David, that David hasted, and ran toward the army to meet the Philistine.
David ran not only towards the giant but towards the enemy army. While others cowered David charged. He didn't just talk a good fight he lived it. When problems arise you need not flee.
The one you serve will give you great power and success as you honor his name by taking a stand and hurrying to the Lord's battle. The philistine in his pride and anger thinks that by his loud roaring he can strike fear deep into the heart of David.
1 Peter 5:8 I wonder what he thought when instead of fear David showed faith. The devil may go about as a roaring lion seeking whom he may devour but victory is already our. We simply must stand on the promises. 1 John 4:4
Big and Better weapons coming
I Samuel 17:51 Therefore David ran, and stood upon the Philistine, and took his sword, and drew it out of the sheath thereof, and slew him, and cut off his head therewith. And when the Philistines saw their champion was dead, they fled.
When you prove the weapons that you have God will give you bigger and better weapons. The weapon will be there when you need it. Amazingly the shepherd had all that he needed to get the job done of killing the giant but after killing the giant God gave him a sword that he uses the rest of his life. I Samuel 21:9
David took his head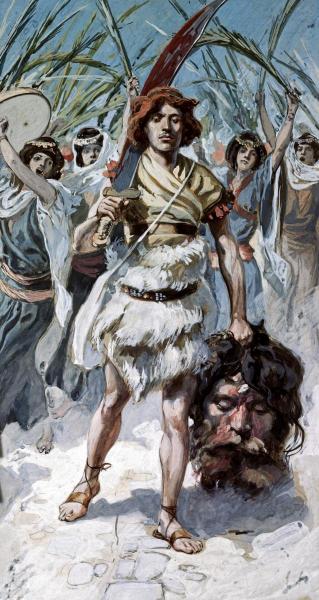 I Samuel 17:54 And David took the head of the Philistine, and brought it to Jerusalem; but he put his armour in his tent.
David took the head and traveled to Jerusalem. Imagine the scene: David has killed the giant. He has taken his head. He will show it to Saul and the army of the Lord. He then travels with it to show to the nation what God can do with one man that will trust him and run to the battle.
God has shown His power. David has proven that God can over other gods. David has proven that the youth can be used when all disdained him. What is on the inside is starting to show on the outside.
That head will win the hearts of the nation and his dearest earthly friend, Jonathan.
As you go out to do battle dear missionary prepare to fight the giant. When you defeat him more enemies will come but so will the army that God will give you to win great battle for Him.
Training men
1 Samuel 18:1 And it came to pass, when he had made an end of speaking unto Saul, that the soul of Jonathan was knit with the soul of David, and Jonathan loved him as his own soul.
Do you seek to have a disciple that you can teach and train? Something will have to be done that will cause the one that you will teach to desire to allow you to teach them.
You have to earn the right to teach them. It is not just a normal and natural thing that they would allow you to disciple them.
They are looking for someone that will be able to really help them. In this Bible story Jonathan is the prince.
He knows that he is the man. Who could lead him? Who can teach him?
The answer is the one that brings the giant's head in his hand when even his dad was unable to win the battle. You can win his heart and love but you must prove your spiritual walk, power and victory before they will want to follow you.
Do you have the victory in your spiritual life? Is God blessing you in a visible way?
He will be willing to acknowledge your ability and wisdom when he sees God's hand on your life.
Making someone else a success
I Samuel 18:9 And Saul eyed David from that day and forward.
What a horrible way to live! Always afraid that David would get his spot. Hurting every time he heard someone brag on David or congratulate him.
If you intend to disciple others you must remember that your goal will be to make them a success. Your goal will be to promote them to a position higher than your own.
Obviously God is going to use this attitude to remove Saul from his position and to train David to withstand criticism etc but as a discipler you must learn a different attitude.
David seems to have had a different attitude. He sat at the table with other leaders and men who had done as great a work as he had or even greater. Of his mighty men we find stories that rival the killing of the giant with even greater exploits yet David is able to work with them and trust them.
Remember if he is not strong enough to hurt you if will, then he is not strong to help you if he will. If you are to put 2 Timothy 2:2 into practice then you must be willing to see men surpass you in ministry and influence.
John the Baptist said that he must decrease so that the one who followed him could increase. John 3:30.
Can you deal with such a blow to your pride. If you can then God can use to make a major difference in other people's lives and in World Evangelism.
Risk your life
I Samuel 19:5 For he did put his life in his hand, and slew the Philistine, and the LORD wrought a great salvation for all Israel: thou sawest it, and didst rejoice: wherefore then wilt thou sin against innocent blood, to slay David without a cause?
Nothing great happens until someone is willing to put their life into their hand. David saw the Lord bring a great salvation and cause great rejoicing even on the part of Saul the king who hates him.
It all starts with someone that loves God enough to be willing to risk their life. It is God that brings the victory but victory doesn't come until someone steps out by faith and lets God do something.
How many people never give their live to be a missionary for fear of learning a language, leaving home, getting involved in another culture, raising their support etc? Great blessings will not come until you step on nothing and allow God to prove Himself in your life.
I would like to hear your thoughts. What do you think? Where am I off? Does this apply to you? What can I improve on in what I say here?