This post is the second part following Guilted into being a missionary
In the last post I began explaining how God worked in our lives to be missionaries. While at the church we had started and pastored in Cartersville I began to be bothered about the number of churches all over the southeast of the United States. I was concerned about all the competition between churches in America and the great lack of churches in so many other parts of the world.
As each missionary came to present their work at our church I would be moved to be a missionary. I wanted to go to whatever country was being presented. I would go home and do the old fashioned thing, look them up in my world book encyclopedia. You know books, real paper and hard backs not on the internet. I would spend the evenings for the next week or two reading everything I could get my hands on about that country.
Betty would get nervous. She would say, I do not want to be a missionary. I can't do it.
She asked me to have more missionaries in, give them more money, that she would even fix her attitude about how missionaries couldn't preach. 🙂 She just couldn't see us leaving the people we loved, our first home of our own, our families, etc and going to the other side of the world to be missionaries.
Betty accused me of loving adventure, of just wanting to travel. She was up to anything to keep me from going to the mission field.


Finally she said, if we go to the mission field I do not what to go where it is hot! So I began to look for places where it was cool. She then said well I do not want to go to where it is cold. Then I looked for places that were neither hot or cold. So she finally admitted that she had no desire to go either way!
Now to the rather weird part. This is how I felt called. Now before you read it understand that I was young, came from a culture like what you are about to read, and didn't understand so much of the Bible as I do today!
In the summer of 1985 I couldn't get my mind off of going to the mission field. It was all I thought about. It consumed me. I contacted different mission agencies. I went to a mission conference. I talked to missionaries. I told them that I believed that God was going to send me to the mission field.
Everyone thought that I would go to England. I had talked to the mission agency and a missionary in England a year earlier. I wanted to go to England because I knew that I did not have any language ability. I wanted to go where I would not have to learn a foreign language.
I had taken French in High School. I did not do well. When I started in college I was talking to them about what degree program I would enter. The first things seemed to be that I had to decide between a BS, Bachelor of Science, or a BA, Bachelor of Arts. I was a country boy. Those terms were very new to me. I asked which was the best, the most prestigious. They told me that that would be the BA.
I asked what I would have to do to get it and it seemed that the biggest difference would be having to study a foreign language. I thought, well, I have done that before. I think I can again. So I signed up for French class. The teacher was a german lady who spoke both French and German.
I too a semester of French. She was a very nice lady. She gave me a D- out of mercy. She said that I slaughtered the French language and had no language ability. So I decided to take German. I got another D- from her mercy.
Later on when I would finally arrive in Mexico and begin language school the teacher would only need about 2 or 3 weeks to tell me again that I had no language ability.
As I prayed that summer it got so bad that I would go to bed around 10 or 11 and sleep for about an hour. I would then wake up and stay up all night in the living room on the couch praying. Then about 4 or 5 am I would slip back into bed and try to get some sleep before I had to go off to work.
In those long nights God did a work in my life. I knew that I was supposed to go to Peru. I knew that I would live and work in Arequipa even though I couldn't pronounce the word.
As I continued praying I knew, in my heart, that I would get my support and arrive on the field in January of 1987. That would be just over a year after I surrendered.
Now God didn't speak to me but I knew that as certainly as I knew I was alive. My biggest fear was what God would do to Betty if she hindered me from going.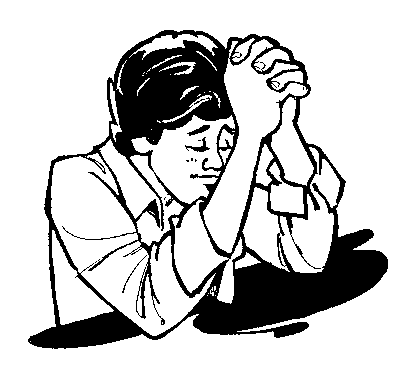 One night or early morning Betty came out and asked when I would be going to bed. I was finally ready to talk to her. I had begged God to work in her heart. I had begged God to not take her from me but to send us together to the mission field. (I know I was foolish but I was young and came from a culture that believed that God might even take her life if she wouldn't follow me. So I had prayed long hours.)
Betty sat down on the couch with me. I told her that God had told me that we were to go to Mexico to learn the language, that we would get our support in that year, that we would go to Peru in January of 1988. I asked her to pray with me and tell God that she would do what He had told me to do. She prayed with me.
When I spoke to the mission agency I told them how things were going to work. The director asked me what I would do if it didn't turn out like I said. I told him that I would then know that God had not spoken to me and I had just imagined it. But it did turn out just like I had thought.
The weird part that you have read is not the story of 99% of the people in the world but it is truly my story. I was certain that He had called me, I knew where He wanted me. I knew that I would learn the language because I knew He had called me. I knew that He would give me my support because He had called me.
I could go on but I think that you get the picture. Now I do not believe that I was right. There was no Scripture to support God speaking to me so clearly. I would never expect anyone else to have such an experience. It has never happened to me again since.
This much I do know. If you do not believe that you are doing what God wants you to do then you will probably not stick. You have to feel like you are on a mission from God. That will give you the fire to get your support. That will help you get through language school. That will help you deal with all the junk that will come your way.
Knowing that read the following that I wrote for others that asked me how to know if they were called. I think it sums up more of a Biblical perspective than what happened to me!
Did God call you?
1. Did you have an intense all consuming desire for the work of God?
This is a true saying, If a man desire the office of a bishop, he desireth a good work.  I Timothy 3:1.
It is not natural to want to be a missionary.  The thought may cross many people's minds but the truth is that it is only a fleeting thought quickly and easily dismissed by most.  It is God who has worked in us both to will (or to put a desire in us that is not natural to us) and do his good pleasure.  God placed something in our heart that we could not get away from.
For it is God which worketh in you both to will and to do of his good pleasure.  Philippians 2:13
Many of us were afraid.  Many of us doubted but He did something in us.  Don't you dare doubt that when the trouble comes.  Don't you doubt in the night what God gave you in the light.  This desire was so great we couldn't get it out of our hearts and minds.
2. Did God place a "necessity" on you?  Did you feel the "woe"?
For though I preach the gospel, I have nothing to glory of: for necessity is laid upon me; yea, woe is unto me, if I preach not the gospel!  I Corinthians 9:16.
I don't know what happens, but it seems that one day we are happy in our lives and churches and then something just happens.  It may have started with a message from our pastor or a Sunday School lesson.  It could have started in a missions conference or reading a book.  It may have been something that someone said but it happened.  It doesn't happen to most folks but it did to you.  All of a sudden you felt like you couldn't get away.  It may have started as only a passing thought.  It was kind of romantic.  It was neat to think about but it didn't go away.  Almost everyone has thought about being a missionary, but they get over it.  You didn't because you are different.  You are called of God.
Did your "heart stir you up"?
And Moses called Bezaleel and Aholiab, and every wise hearted man, in whose heart the LORD had put wisdom, even every one whose heart stirred him up to come unto the work to do it:  Exodus 36:2.
No one can explain it.  It is different with everyone, but something happened.  You knew it then and even in the worst of times you will need to remember it.  When it gets tough and the Devil is on your back you are going to need to remember this.  You didn't choose it.  He chose you.  He put the unnatural but spiritual desire in your heart.  He put a "necessity on you."  He put the "woe on you."  He "stirred up your heart."  Don't let anyone or anything rob you of that.  Don't let yourself, a "friend", or the Devil try to explain it away.  It is the most precious gift we have in our personal ministry and walk with God.  He called me!
Others can see the hand of God on my life and ministry.
He put the burden on me but He also has helped me live a life that met the   requirements of the ministry.  He gave me the ability.  I went before my pastor and he could see that in me.  A group of Godly men have examined me and they can see it.  Not only do I think that God called me but others recognize it in me.  God has placed His hand on me.  I feel very humble when I think about it but the God of Heaven has counted me worthy and put me in His ministry.  One of the wonderful things about it is that I am not the only one who thinks so.  You wouldn't be here today unless God had impressed on others that you have been called of God.  You had to prove your call.  You had to let others see it and they did.
I believe God has called me or I wouldn't sitting here right now.
Now you will travel all around the country while literally thousands more evaluate your call.  You will have to believe it or you can't keep telling people over and over.  God called me.  God called me.  Don't you forget it when it gets rough.  Never make a major decision during times of discouragement and problems.
And let us not be weary in well doing: for in due season we shall reap, if we faint not. Galatians 6:9
God has confirmed or will be confirming His call in you.
He opened doors for you in your church, at the mission, in other churches, and in   the work.  He called you.  Never, never forget it.  Hold on.  He that called you will see you through.
God's call is what holds me when I get down.
I often think of quitting.  I often get tired but then I remember.  I am not in Peru because I want to be.  I am not going as a missionary because I am a good guy.  I am not there because I like it.  I didn't choose to go He called me.  I would be afraid to do anything less.  When I get down I just remember, (I try to forget), but it is still there I came here under orders.  I do not want to embarrass my God, my Calling, my Church, my Mission Board.  I will stay.  I will not allow myself to think of other things.  I will not try to rationalize it.  I will not try to figure a way out of it.  I will get a hold of God.  He sent me He has to help me stay.  For 30 years now He has not failed me and He won't fail you.  He has a job for you to do and He will give you more grace and help if you will just allow Him to do so
God chose to call us. God has allowed us to preach the Gospel. God has entrusted His Word to us. He shed His blood and has entrusted His Holy Word to us. I Thessalonians 2:1-4
He Called, He Will Philippians 1:6
"And people who do not know the Lord ask why in the world we waste our 
lives as missionaries. They forget that they too are expending their lives…and when the bubble has burst they will have nothing of eternal significance to show for the years they have wasted."– Nate Saint
I like this book about God's call on your life! It will tell you not to look for what you see in my life. I agree.